A life of discrimination and fear led an Ethiopian marathoner to protest on the world stage
At night, Feyisa Lilesa and his friends hid in the farms to evade the security forces who were arresting people across the country. As a 15-year-old growing up in Oromia region, Lilesa says he was always aware that many of his fellow citizens didn't approve of the government's treatment.
But the moment of awakening for him came in the days and weeks following the landmark May 2005 elections. Championed by the government as a genuine exercise in competitive elections, the vote involved multiple parties, not to mention the significantly enlarged space for political campaigning.
However, when the early outcome of the vote showed a huge lead from opposition groups, the government delayed finalizing the count and responded to protests with a heavy-handed approach. An independent study of the post-election violence by an Ethiopian judge showed the shooting, beating and strangling of almost 200 people, including 40 teenagers. The government also arbitrarily arrested protesters, with police records showing the detention of 20,000 people during the anti-government protests.
When Oromo citizens started demanding justice and demonstrating in Lilesa's hometown in Jeldu district, the police came to arrest them en masse. Lilesa said that during the day they could be careful about their movements, but at night, under the cloak of the dark, they would go hiding among the unharvested crops.
"This all made an impression on me," Lilesa told Quartz. "I realized no one was safe."
On Aug. 21, on the last day of the 2016 Rio Olympics, Lilesa took the memory of those frightful teenage days on to the world stage. Inching closer towards the finish line, with his silver-medal win guaranteed and millions of people watching the televised 26.2 mile-race, Lilesa raised his arms and crossed them in an X, a gesture of solidarity with his people's protest against Ethiopia's government.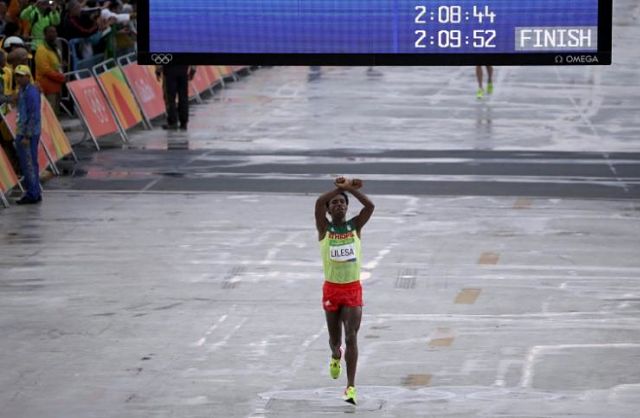 Feyisa Lilesa makes the crossed fists sign as he finishes in second place at the 2016 Rio Olympics on Aug. 21, 2016.
37780 Views Comments
Ethiopian lawmakers voted Tuesday to lift a state of emergency imposed three months ago across the country to curb widespread anti-government protests. The ending of the
3443 Views Comments
Kenyan police have fired tear gas at opposition protesters a day after their leader Raila Odinga announced his withdrawal from the presidential race, saying he
3746 Views Comments
The unrest raises questions about the future of Ethiopia's "ethnic federalism" system of governance, which is supposed to offer a degree of self-determination to the