The last time that President Obama's approval rating in Washington Post-ABC News polling was as high as it is in our new survey was six months after he took office. At 58 percent, Obama's approval is 15 points higher than it was on the eve of the 2014 elections, where his party got blown out. Hillary Clinton's hope is that the reversal of opinions on Obama two years later will also lead to a reversal of fortunes for other Democrats — and there's reason to think that it will.
We'll start by noting that Obama's approval rating in our survey is quite a bit higher than in other recent polls. Earlier this month, CNN-ORC had him at 51 percent. At the end of August, Fox had him at 54. But even in Gallup's weekly averages, Obama has been over 50 percent for most of this year.
In the past, we've seen a good correlation between final vote share and Post-ABC approval polling — even when the approval rating was tested in August or September of the same year. The line on the graphs below shows that correlation for years that we have data: As presidential approval improves, so does the vote share of the president's party. At the low end are 1992, when Bill Clinton beat George H.W. Bush, and 1980, when Ronald Reagan beat Jimmy Carter. At the high end are the reelections of Lyndon Johnson, Dwight Eisenhower and Richard Nixon. High approval, high results. Low approval, low results.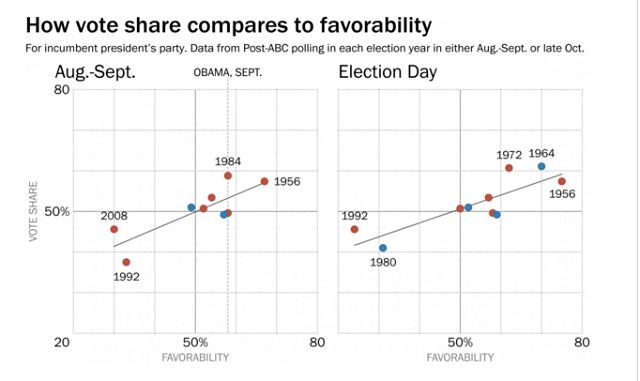 In other words, there's a strong correlation between how people feel about Obama and how they feel about Clinton. Ninety percent of Clinton supporters approve of Obama's job performance, 64 percent of them do so strongly. About the same percentage of Trump backers disapprove of Obama's job performance, more of them feeling that way strongly.
We can flip that. Eighty-six percent of registered voters who strongly approve of Obama's job performance back Clinton; more than half of those who approve of his performance somewhat plan to back the Democrat in November. Among those who strongly disapprove of Obama, 80 percent plan to back Trump. But even 6 percent of that group is leaning toward Clinton. (Only 1 percent of those who strongly approve of Obama plan to back Trump.)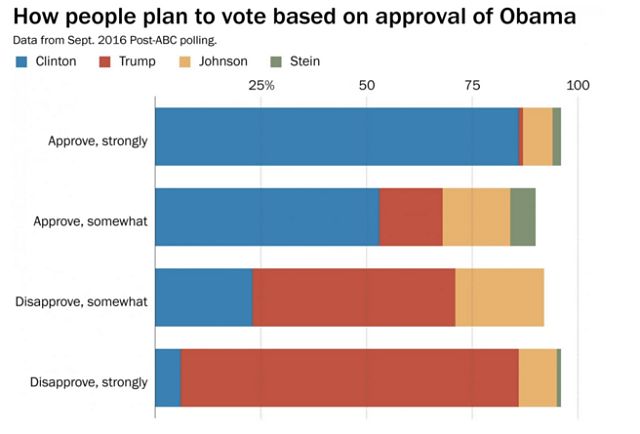 37780 Views Comments
Ethiopian lawmakers voted Tuesday to lift a state of emergency imposed three months ago across the country to curb widespread anti-government protests. The ending of the
3443 Views Comments
Kenyan police have fired tear gas at opposition protesters a day after their leader Raila Odinga announced his withdrawal from the presidential race, saying he
3746 Views Comments
The unrest raises questions about the future of Ethiopia's "ethnic federalism" system of governance, which is supposed to offer a degree of self-determination to the