Don't Jail Journalists, Restrict Opponents Says Obama
(Addis Ababa) U.S. President Barack Obama said on Tuesday that Ethiopia "cannot unleash the full potential of its people" if it jails journalists and restricts legitimate opposition groups.
Ethiopia's government has acknowledged it had more work to do to develop its democracy but also says any journalists it has detained committed crimes.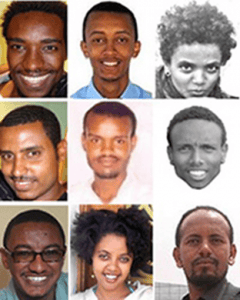 Ethiopian Bloggers and Journalists
In a speech at the African Union, Obama also said Central African Republic leaders needed to commit to inclusive elections and a peaceful transition of power. Elections in October will mark a return to democratic rule after the Seleka rebels toppled President Francois Bozize in March 2013, sparking a conflict.