Ethiopian Community & Nurses Group Hosts Healthcare Conference in California
Next week two Ethiopian American organizations are collaborating to host a timely healthcare conference in San Jose, California focusing on the prevention of diabetes, one of the top chronic diseases in the United States, which also affects many individuals in our community.
Presented by Ethiopian Community Services and the Ethiopian Nurses Association of California, the 3rd Annual Health & Wellness Conference features speakers from Stanford Health Care, Kaiser Permanente and Santa Clara County Valley Medical Center.
The Ethiopian Nurses Association of California (ENAC) is a non-profit organization that "aims to provide health education and awareness to the Ethiopian Community in the greater San Francisco Bay Area," while Ethiopian Community Services (ECS) is a 20-year-old non-profit organization that is "committed to providing culturally-based adjustment and long-term services that enhance productivity and self-sufficiency within the Ethiopian Community in Santa Clara County (SCC)."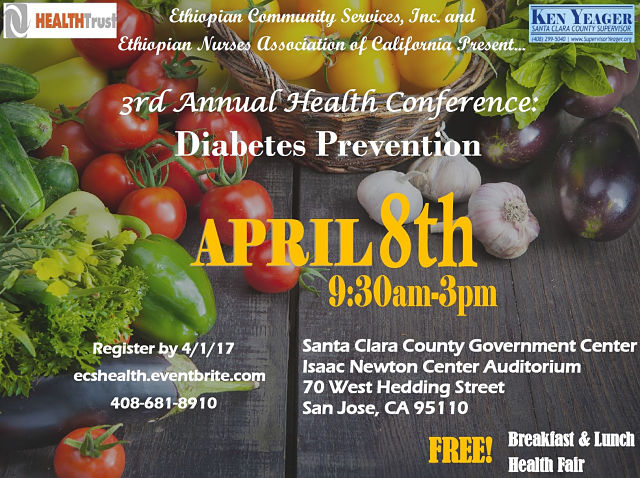 "Please join us as we come together to learn about diabetes prevention and management, and how we can empower ourselves to live happier, healthier lives," organizers announced.
Sponsored by Santa Clara County Supervisor Ken Yeager & The Health Trust the event is scheduled to be held on April 8th at the Isaac Newton Senter Auditorium in San Jose.