Man Exonerated over Murder Walks Free after 32 Years
A man freed after spending 32 years in prison for a murder he always denied committing has said that he had no bitterness in his heart.
Andrew Wilson, 62, had a broad smile on his face as his clasped hands with his family on his first day of freedom.
He was released from the Los Angeles County Men's Central Jail into a sea of cameras and cheers and applause from university law students who worked to free him.
"This is unbelievable. This is unbelievable," Mr Wilson said.
He had maintained his innocence since his arrest in 1984 over the death of Christopher Hanson, 21, who was stabbed in Los Angeles.
A day before his release, Superior Court Judge Laura Priver ordered him to be freed after prosecutors conceded he did not get a fair trial.
Mr Wilson said his 96-year-old mother, Margie Davis, who lives in St Louis, was his fiercest advocate.
"My mother was the backbone," he said. "She was a 96-year-old pit bull."
He plans to go to St Louis to visit her as soon as he can, and his mother said she cannot believe she is going to see him after three decades.
"I prayed for what I thought was the impossible," she told KABC-TV. "I prayed for his release. And evidently it wasn't impossible. It's been granted me."
Loyola Law School's Project for the Innocent, which fought for Wilson's release, pointed to numerous due-process violations.
"It's been a nightmare but I survived and got to the end of the road," Wilson said.
Wearing a red Loyola shirt, Mr Wilson held hands with his sister and daughter. His 15-year-old granddaughter was by their sides.
He said he holds no bitterness because that would be "a waste of time".
Asked what he thought of his prosecutor, he said: "I'm past it. I just want to go get something to eat right now and love my family."
His sister, Gwen Wilson, 49, of Inglewood, California, said: "It's been a long 32 years and I'm glad that it's over … I stayed hopeful all the way."
She was 14 when her brother was sent to prison.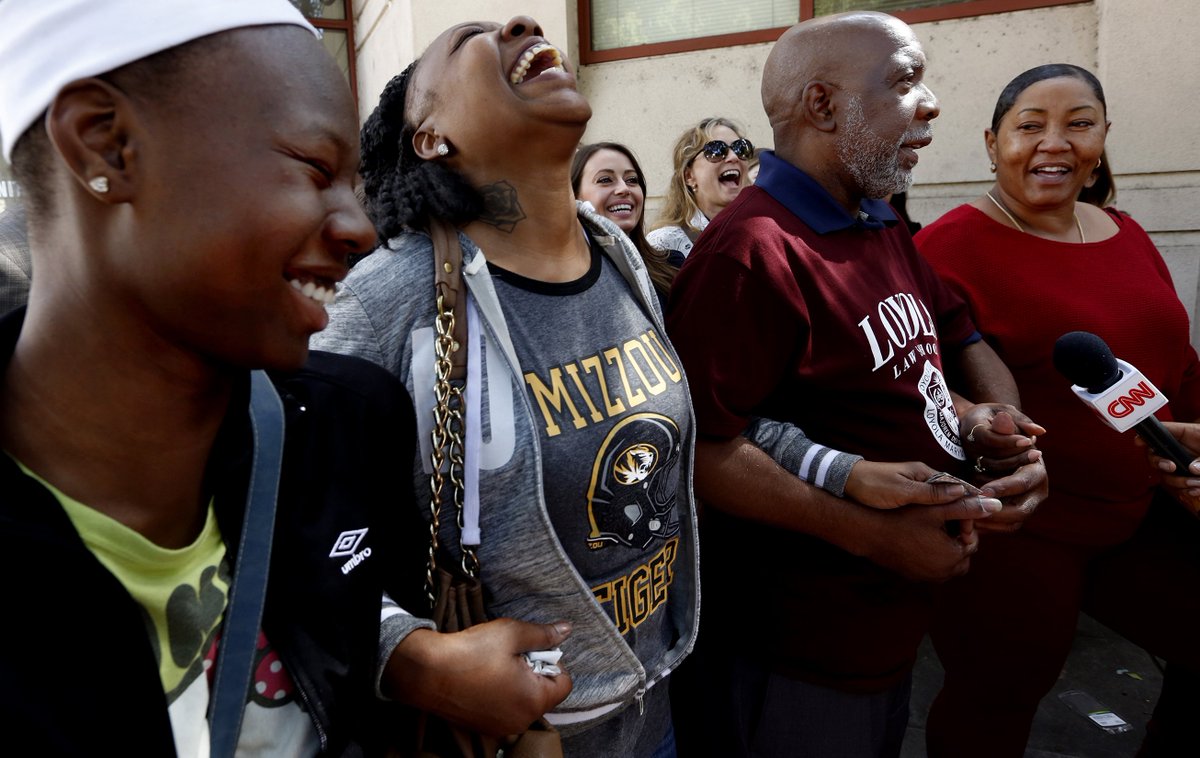 "It was scary because it is my brother and he would never come back; that's what I thought in the moment," she said.
Paula Mitchell, Mr Wilson's lawyer, said before the hearing that numerous due-process violations recently came to light that showed he did not receive a fair trial.
She pointed particularly to a weeks-long delay before police began canvassing for suspects with Mr Hanson's girlfriend, Saladena Bishop, who was 17 at the time. She was the prosecution's only eyewitness.
Among missteps by the prosecution was the suppression of evidence that she had previously filed a false police report accusing another man of rape, according to court papers filed by Ms Mitchell and other lawyers with the Project for the Innocent.
The district attorney's office said it would not retry Mr Wilson. Another hearing was set for May 3 to begin the process to determine whether he is factually innocent, which could lead to compensation claims.