TV Comedy Introduces Israelis to Their Ethiopian Neighbors
Television show "Nebsu" brings Ethiopian culture into Israeli living rooms, and mashes it up against mainstream culture to comedic effect.
Last week, Israelis for the first time saw a black lead character on a homegrown, primetime television show.
"Nebsu," a half-hour comedy, focuses on an Ethiopian man who is married to an Ashkenazi Jewish woman. Misunderstanding ensues.
"There is definitely a lot of cultural confusion in the show," Yosi Vasa, the star and co-creator of the show: Nebsu, told JTA. "But the great thing about comedy is when the audience laughs, that means they get it. So that's progress."
Following a series of sometimes violent protests between Ethiopian Israelis and police in recent years, the creators of the new show think comedy is called for. They hope that by making light of the frictions between Ethiopian immigrants and the broader society, they can promote mutual understanding.
"People went out to [the highway] Ayalon South and demonstrated with anger. People wrote columns," co-creator Shai Ben-Atar said in a promotional video, referring to 2015 demonstrations protesting police brutality against Ethiopians. "Our demonstration is a demonstration of love. We come to the audience with love. We come with characters full of love."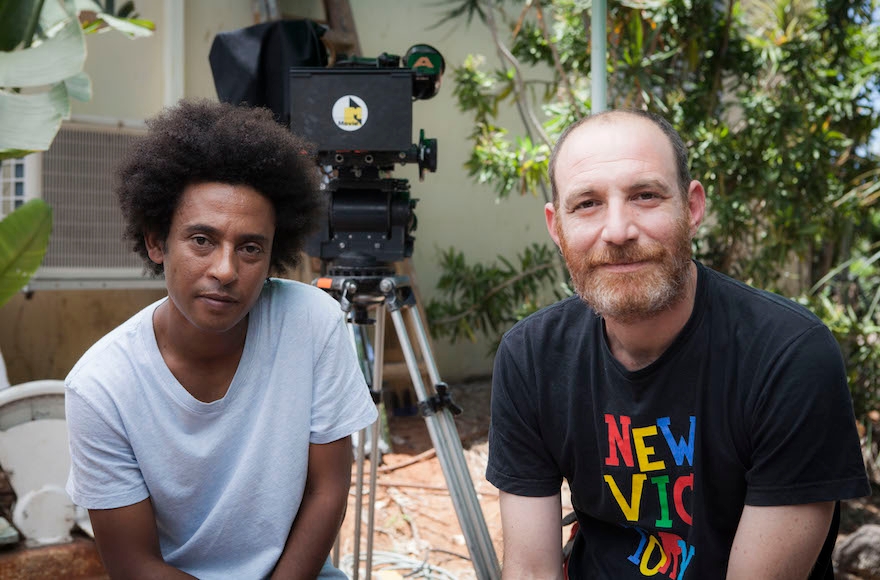 "Nevsu" co-creators Yosi Vasa, left, and Shai Ben-Atar
In the March 9 premiere, Vasa's character, Gili, steps out of his suburban house to run an errand. A police officer driving by stops and demand his ID, which he has left inside the house. Moments later the officer is aggressively frisking Gili against the trunk of his car.
Vasa, 41, said such incidents are part of his reality, which many Israelis find difficult to believe. But one evening last year, the show's third co-creator, Liat Shavi, had a firsthand look. After saying goodnight to Vasa, who had stopped outside the office in Tel Aviv to smoke a cigarette, her cellphone rang.
"Suddenly he's calling me, and I don't understand. He's speaking unclearly, and he says, 'Come here for a second,'" Shavit recalled in the promotional video. "So I look across the street and I see him standing there with a police officer."
Ben-Atar adds: "He didn't care about the fact that he was arrested. He just really wanted us to see that it actually happens, and that was really comedic."
Roni Akale, the director-general of the Ethiopian National Project, said most Israelis don't get where Ethiopians are coming from because they live largely separate lives.