Ethiopia Exhibition Featuring Contemporary Artists
The second installment of the Addis Calling group exhibition curated by Addis Fine Art Gallery will open in Ethiopia's capital city on March 25th. The exhibition promotes the works of contemporary Ethiopian artists and will remain on display until May 20th, 2017.
"Representing a new selection of local talent engaged in a diverse range of artistic expression, the exhibition is an exciting mix of painting, glass mono-prints and photography," the gallery announced in a press release.
Artists featured in Addis Calling II include Addis Gezahegn, Mulugeta Kassa, Abiy Solomon and Bezawit Wondwossen.
Below are bios of each artist courtesy of Addis Fine Art gallery:
Addis Gezahegn
Addis Gezahegn (b.1978), a long-time artistic presence in Addis Ababa, is known for portraying the multifaceted characteristics of the city's residents by detailing the external facades of their homes," His signature piece in the exhibition, from his series Floating City, features a vast, dramatic night sky—a black expanse that towers above a shimmering horizon of urban homes that mostly appear rootless, blurred, and ephemeral. Over the years, he has taken an increasingly reductive approach to his work, rendering entire cityscapes as a flat patchwork of colorful doors and gates. Gezahegn is a 2011 graduate of Addis Ababa University's Alle School of Fine Art and Design.
Mulugeta Kassa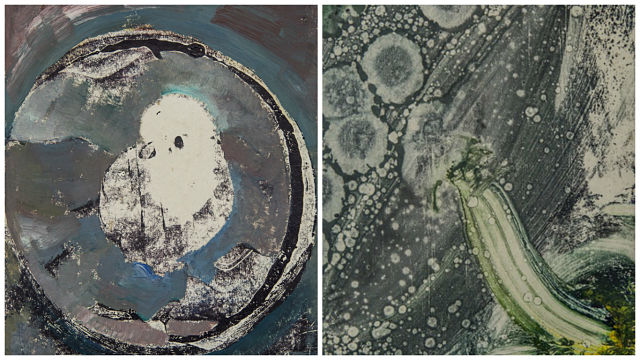 Paintings by Mulugeta Kassa, UNTITLED III, 2012, Glass Mono Print, 40 × 30 cm and UNTITLED I, 2012
Glass Mono Print 40 × 30 cm. (Courtesy photos)
Mulugeta Kassa (b.1973), co-founder of the experimental collective Netsa Art Village, considers the singular nature of conception and fertility through his glass mono-prints. Embryo and phallus-like structures float by in a sea of neutral grays, greens, and browns. One of these is tweaked to reveal the outline of a woman carrying a mountain-like bundle of sticks on her back. Kassa graduated from the Addis Ababa School of Fine Arts and Design in 2003.
Photographer Abiy Solomon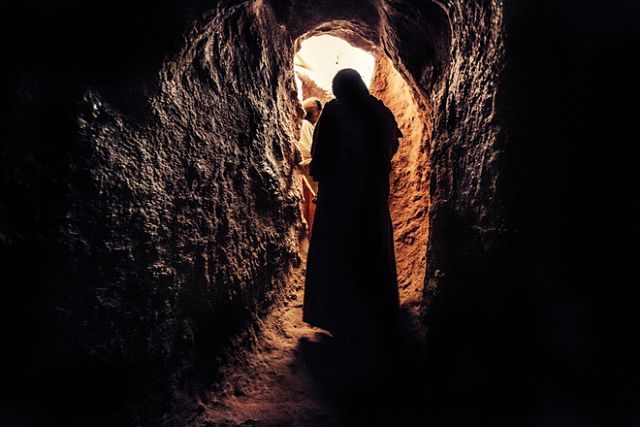 Photo by Abiy Solomon, LALIBELA IV, 2014, Digital Archival Print, 47 x 70.5cm, Edition of 7 + 1AP.
Abiy Solomon (b.1983), is a photographer and one of the most prominent graphic designers in Addis Ababa. In his photography series, Primordial Modernity: The Raw Spirit of Lalibela, he offers a meditation on spirituality and the profound interiority of faith, as he photographs monks in Lalibela exiting and entering the hushed, dark spaces within the ancient rock-hewn churches. Offset by the bright sunlight that pours in through the open windows and doorways, the images are imbued with a reverent feeling: a contemplation of light and darkness, as well as the inner and outer manifestations of religiosity. Solomon holds a degree in Animation and Visual Effects from Maac University in India (2008). He is the founder and Creative Director at Orangeswitch, a design company, and Partner at Africology Media.
Bezawit Wondwossen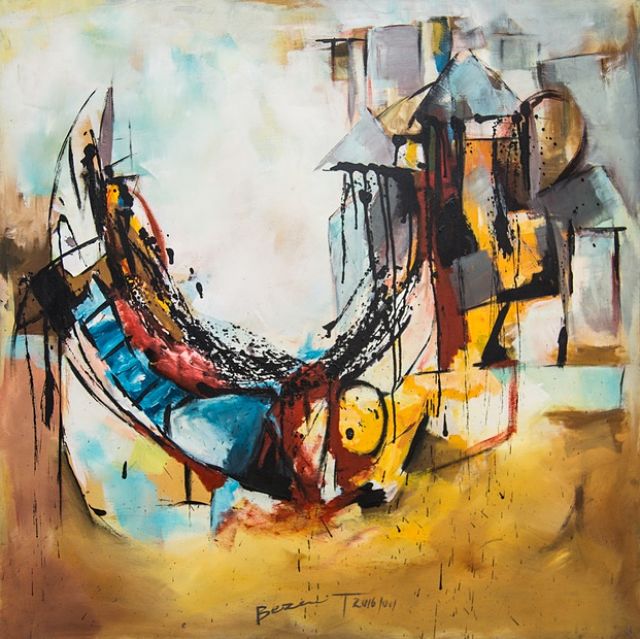 Painting by By Bezawit Wondwosen, Untitled X, 2016. (Courtesy photograph)
Bezawit Wondwossen (b.1987) uses bold, thick strokes of blues, oranges, and browns to create an abstract yet vigorous cityscape, against which splashes of black silhouette. The black forms a meditative core—seemingly haphazard, yet controlled; ornamental, yet integral to the logic of the works. It pulls viewers in to contemplate its various weights, and the sense of angst it evokes—a feeling Bezawit, a 2003 graduate of the Abyssinia School of Fine Arts, ascribes to the travails of womanhood.