President Barack Obama On Why a Million Miles of Travel Gives Him Hope for the Future
Lonely Planet believes responsible travel can be a force for good. It's a belief shared by President Barack Obama, the first sitting US president to visit Cambodia, Ethiopia, Kenya, Myanmar and Laos. On his final foreign trip, he spoke to us about how the optimistic, tolerant and engaged young people he has met around the world give him hope for the future.
During my time as president, I have traveled well over a million miles to every corner of the world. These foreign trips have included international summits and bilateral visits that have been fundamental to the progress that we've made – strengthening alliances, engaging former adversaries, renewing the global economy, and forging agreements to fight climate change, stop the spread of nuclear weapons, expand commerce, and roll back poverty and disease.
I leave office more convinced than ever before that international cooperation is indispensable. Without regular consultations with foreign leaders, and institutional coordination between the US and our allies and partners, we cannot overcome challenges that recognize no borders. It took dozens of countries working together to stamp out Ebola. It took coordinated pressure and careful diplomacy to reach a peaceful agreement to roll back Iran's nuclear program. Nearly 200 countries spent years in painstaking negotiations to achieve the Paris Agreement to protect our planet. Every single day, the US works seamlessly with other countries to share information to prevent terrorist attacks, stop human trafficking, break up drug cartels, or combat corruption.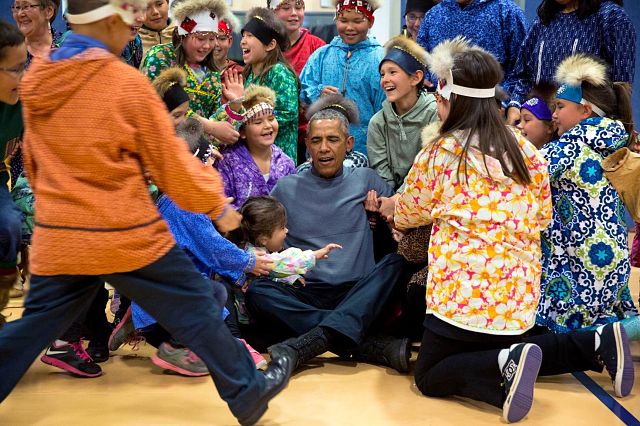 The president takes a group photo with U.S. students at Dillingham Middle School in Alaska. (© Pete Souza / Official White House Photo)
But while this cooperation is essential, I have always believed that our engagements with other countries must not be limited to governments – we also have to engage people around the world. In particular, we must sustain our engagement with young people, who will determine the future long after those of us in positions of power leave the world stage.
Consider the demographics of our world. More than half of human beings are 30 years old or younger. This is even more pronounced in the developing world – that's where 90 percent of the global population under 30 lives. These young people are living through revolutions in technology that are remaking life on our planet, allowing for unprecedented access to information and connectivity, while also causing enormous disruptions in the global economy. And while the world's leaders discuss the pressing issues of the day, it is the world's young people who will determine whether their voices direct the change that is sweeping our world towards greater justice, opportunity, tolerance, and mutual respect.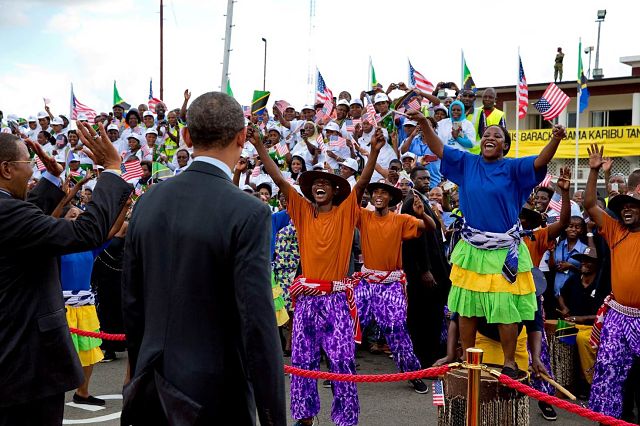 President Obama watching performers on the tarmac at Julius Nyerere International Airport in Dar es Salaam, Tanzania, July 2, 2013.