Why the Ethiopian Diaspora is so Influential
During a year of anti-government protests throughout Ethiopia, its global diaspora, particularly that in the US, has been deeply involved – and not just vocally, writes Addis Ababa-based journalist James Jeffrey.
Twitter and Facebook have been blocked since a six-month state of emergency was imposed last month as the government tries to restore order across the country's two most populous regions of Oromia and Amhara.
There are also internet blackouts, primarily targeting mobile phone data, which is how most Ethiopians get online – and is for many residents of the capital, Addis Ababa, the most frustrating effect of the security clamp down.
The ruling Ethiopian People's Revolutionary Democratic Front (EPRDF) has singled out social media as playing a key role in the latest unrest which broke out in November 2015 and which resulted in millions of dollars' worth of damage across Oromia, the region where the protests began.
But internet restrictions may have less to do with silencing Ethiopians at home than with stymieing influence from abroad where those in the diaspora energetically follow and respond to events.
"The diaspora have the freedom to speak freely, assemble and organise under the constitutions and laws of the countries in which they reside," says Alemante Selassie, emeritus professor at the William and Mary Law School in the US.
"The diaspora can speak truth to power in ways that is not imaginable in their own homeland."
'Filling the void'
Ethiopia's global diaspora is estimated to be two-million strong, with the highest numbers in the US, totalling anything from 250,000 up to about one million.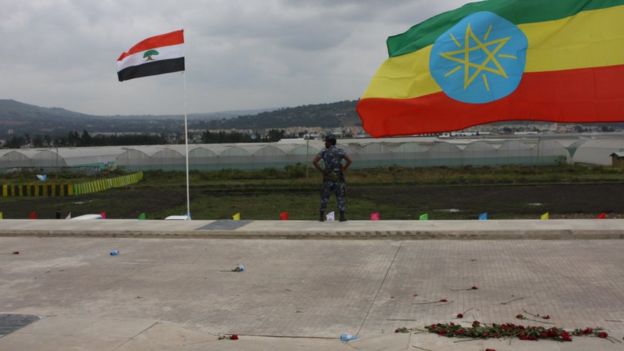 "The protesters are their brothers, sisters, aunts, uncles, classmates, neighbours and former colleagues," says Hassan Hussein, an Ethiopian academic and writer based in the US state of Minnesota.
"Most activists in the diaspora are people pushed out of the political process and into exile by the current regime in Ethiopia," says Mohammed Ademo, an Ethiopian-born journalist in Washington DC.
"So they see themselves as stakeholders in the efforts to shape the country's future."