Ethiopian And Eritrean Catholic Community In Malta Get New Parish
Some migrants are being driven to commit suicide because of their desperate living conditions, according to the Eritrean and Ethiopian community, which this morning appealed to the authorities to feel their pain.
Several issues - from the processing of asylum status, lack of documentation and marginalisation in society, to shortage of financial means and lack of benefits despite paying tax and social security contributions – were weighing heavily on their mental health, they said this morning.
Their representatives appealed for talks with Archbishop Charles Scicluna following Mass at the Bon Pastur chapel in Balzan.
Archbishop Charles Scicluna
During the celebration – marking the Church's World Day of Migrants and Refugees – Mgr Scicluna announced the launch of a new parish for the Eritrean Catholic community.
The community is being provided with a place of worship at the Our Lady of Lourdes in Floriana, of which Fr Philip Cutajar OFM Cap is parish priest. This, he said, was a sign that they were part of the church community in Malta.
The parish will be similar to the parish for the English-speaking Catholics in Malta, which is a personal parish.
A personal parish provides pastoral care for a group of Catholics based on, among others, their ethnicity, language, profession and liturgical characteristics.
During the homily, Mgr Scicluna said that when people landed on Malta's shores, society should not see how much money they had or what their political affiliations were, but that they were human beings who deserved respect and protection.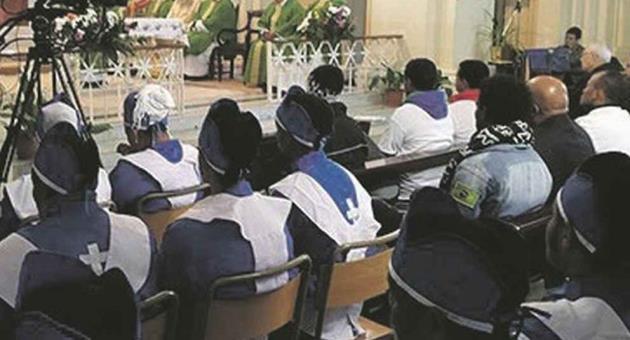 Earlier, he insisted that Jesus had mingled with people, no matter who they were and no matter their colour.
He also appealed for prayers for those who had to flee their country because of different circumstances, just as Maltese generations had done in the past.
Mgr Scicluna hoped that just as they had welcomed St Paul, the Maltese would also welcome those seeking refuge in Malta and who were willing to contribute to society.
Director of the Jesuit Centre for Faith and Justice Fr Mark Cachia, Coptic Priest Abouna Boulos Elsouriany and Mgr Philip Calleja, head of the Emigrants' Commission were also present for the Mass.
Ethiopians among the most religious people in the world, according to a new survey that seems to compare religious faith and poverty. But the report by
Earlier this year, the Israeli government announced it plans airlift 500 family members of Ethiopian-Jewish soldiers to Israel, as part of Interior Minister Silvan Shalom's
The rope being tied around my waist by a monk comprised lengths of scraggly old leather attached to each other by granny knots. I have