The Virginia TV Shooting: Two Journalists Killed
Vigils held for Alison Parker and Adam Ward, two WDBJ7 news journalists killed when former colleague Vester Flanagan opened fire on them live on air
Here is what we know so far about the shooting of two TV journalists in Roanoke, Virginia:
Tributes have been paid to two journalists who were shot dead live on air on Wednesday morning. The president of the WDBJ7 news channel, Jeffrey Marks, said:
This is the worst day of my career. Worst day of all our careers. We've lost beloved colleagues.
The family of Alison Parker, 24, the reporter who was killed, described her as
our bright, shining light … cruelly extinguished by yet another crazy person with a gun.
The second victim, cameraman Adam Ward, 27, was described as a "fine photojournalist" with an infectious smile. His fiancée, Melissa Ott, who worked as a producer in the WDBJ7 newsroom, was at work on Wednesday morning and saw the shooting unfold live on screen.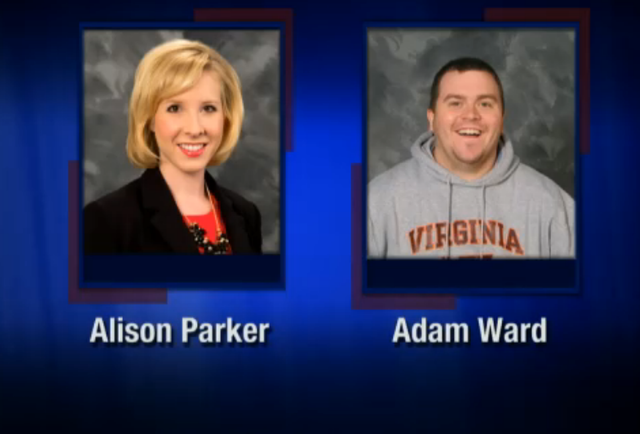 The two journalists that were shot by a former colleague
A third victim, who survived the shooting, underwent emergency surgery after a bullet hit her in the back. Vicki Gardner is reported to be in stable condition in hospital.
The gunman, identified as Vester Lee Flanagan, later died after shooting himself. Flanagan, a former news reporter who was known on-air as Bryce Williams, had been sacked by WDBJ7 in 2013 and unsuccessfully tried to sue the station. Court papers seen by the Guardian claimed he had a history of aggressive behaviour at work.
Relatives of Flanagan expressed their "deep sadness", in a statement that made no reference to the killer:
Our thoughts and prayers at this time are with the victims' families and the WBDJ7 news family.
In tweets sent after the shooting, Flanagan accused Ward of having made a complaint against him and Parker of making racist comments, an allegation Marks dismissed as "just not believable".