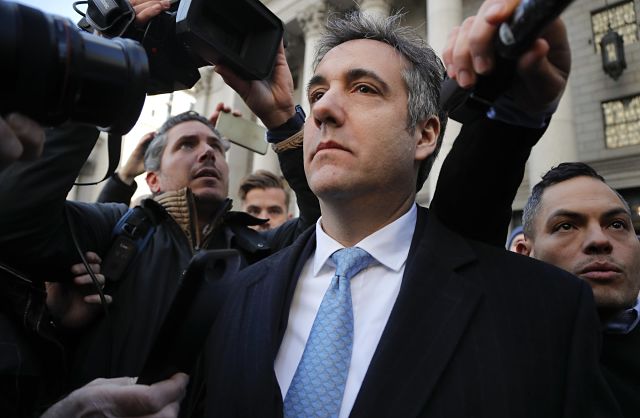 Michael Cohen, a former personal attorney to President Trump, has pleaded guilty to lying to U.S. Congress about work he did in 2016 to build a Trump Tower in Moscow. Cohen's guilty plea came in a surprise court appearance before a federal judge in New York on Thursday as part of a probe led by special prosecutor Robert Mueller, a former FBI director, who is investigating Russian interference in the 2016 U.S. presidential election. (AP photo)
The Washington Post
Michael Cohen, a former personal attorney to President Trump, pleaded guilty Thursday in New York to lying to Congress about a Moscow real estate project that Trump and his company pursued during the months he was running for president.
In a nine-page filing, prosecutors laid out a litany of lies that Cohen admitted he told to congressional lawmakers about the Moscow project — an attempt, Cohen said, to minimize links between the proposed development and Trump as his presidential bid was gaining steam.
Cohen made a surprise appearance Thursday morning before U.S. District Judge Andrew L. Carter Jr., who asked him to enter his plea.
"Guilty, your honor," Cohen replied. As part of the plea, Cohen said he had lied for the person listed in court documents as "Individual 1" — whom Cohen identified in court as Trump.
"I was aware of Individual 1's repeated disavowals of commercial and political ties between himself and Russia, his repeated statements that investigations of such ties were politically motivated and without evidence, and that any contact with Russian nationals by Individual 1's campaign or the Trump Organization had all terminated before the Iowa Caucus, which was on February 1 of 2016," Cohen told the judge. "I made these misstatements to be consistent with Individual 1's political messaging and out of loyalty to Individual 1," he told the packed courtroom in Lower Manhattan…
As part of the plea, Cohen admitted to falsely claiming that efforts to build a Trump-branded tower in Moscow ended in January 2016, when in fact discussions continued through June of that year, the filing said. That was a critical period in the presidential campaign, when Trump was plowing past a crowded GOP field of candidates to win the nomination. Among those Cohen briefed on the project's status was Trump, on more than three occasions, according to the document.
Trump has repeatedly said he had no business dealings in Russia, tweeting in July 2016, "For the record, I have ZERO investments in Russia," and telling reporters in January 2017 that he had no deals there because he had "stayed away."
Read more »
[Read the criminal information document filed against Michael Cohen]
—

Join the conversation on Twitter and Facebook.