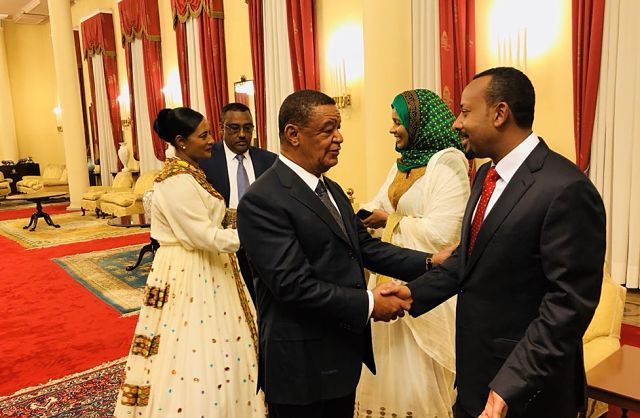 President Mulatu Teshome (left) hosting dinner for members of parliament on October 8th, 2018. (Photo: Twitter @fitsumaregaa)
Africa News
Ethiopia to Reform Judicial System, Amend Repressive Laws: President
Ethiopia will reform several laws that are widely perceived to having had a detrimental effect on human rights and democracy, according to a speech delivered by the country's president Mulatu Teshome.
Fitsum Arega, the chief of staff in the prime minister's office said the president tasked the country's lawmakers as he outlined government's plans for the next fiscal year on Monday.
''The government will reform the Anti-Terrorism Proclamation, the Charities and Societies Proclamation as well as various legislation having to do with the regulation of the media,'' Arega quoted the president on Twitter.
The overriding objective is to ensure that the norms and institutions established in these legislations are compatible with relevant international human rights standards. #Ethiopia

— Fitsum Arega (@fitsumaregaa) October 8, 2018
Discussions between government and opposition parties to amend provisions the controversial anti-terrorism law in May.
Human rights group have previously accused the state of using the law's broad definitions against anyone who opposes government policies.
Human Rights Watch has previously said the law "grants authorities the power to prosecute journalists who publish articles about protest movements, armed opposition groups, or any other individuals deemed as terrorist or anti-peace".
Read more »
—
Join the conversation on Twitter and Facebook.