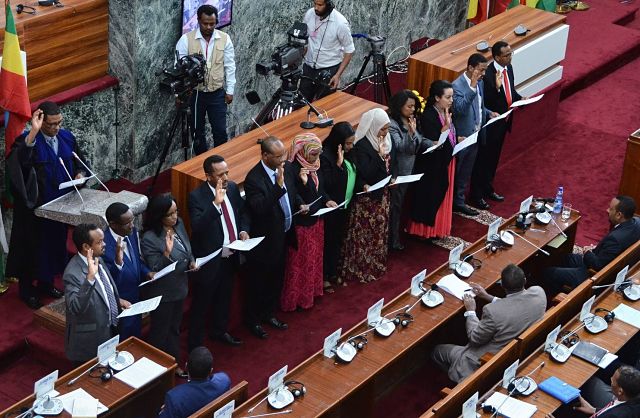 Ethiopia's newly appointed ministers take their oath of office on Oct. 16, 2018, at the parliament in the capital Addis Ababa. (Getty Images)
The Washington Post
In Ethiopian leader's new cabinet, half the ministers are women
By Paul Schemm
ADDIS ABABA, Ethi­o­pia — Ethiopia's reformist prime minister announced Tuesday a new cabinet that is half female, in an unprecedented push for gender parity in Africa's second-most-populous nation.
Prime Minister Abiy Ahmed has marked his nearly seven months in office with staggering reforms for this once-authoritarian country, notably releasing thousands of political prisoners, making peace with its main enemy, Eritrea, and promising to open up the economy.
The new cabinet, which reduces ministerial positions to 20 from 28, has women in the top security posts for the first time in Ethiopia's history. Aisha Mohammed will be in charge of defense, and Muferiat Kamil, a former parliamentary speaker, will head the newly formed Ministry of Peace.
In some ways, this could be one of the most important ministries in the government, though its name has garnered a degree of criticism on social media for its Orwellian sound. It oversees the federal police, the intelligence services and the information security agency, and it will take the lead in tackling much of the ethnic unrest that has swept the countryside since Abiy's reforms.
Awol Allo, an expert on Ethi­o­pia from Britain's Keele University, said this was especially important because the lack of gender equality is a persistent problem in the country, which has strong patriarchal traditions.
"It is a very important and progressive move on the part of the prime minister and very consistent with the transformative agendas he's been pursuing," he said. "I also think it sends a strong message to young Ethio­pian women that one day they can take up positions in the government."
Read more »
—
Related:
Spotlight: Helen Show on Professional Women and Motherhood (Video)
Join the conversation on Twitter and Facebook.