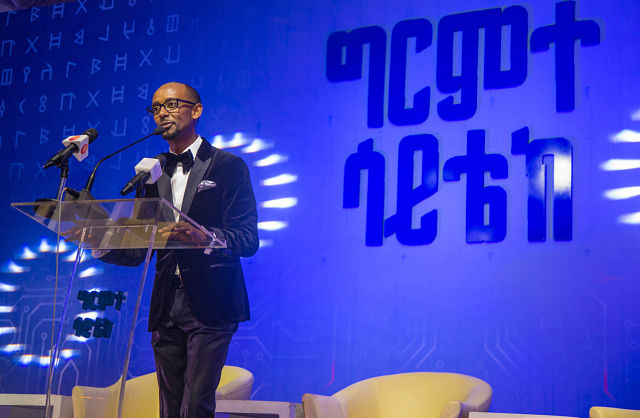 Solomon Kassa, author of 'Girimte Scitech,' will hold a book signing event in Arlington, VA on November 1st, 2018. (Photo: Solomon speaking at his book launch party at Sheraton Addis in Ethiopia on June 28th, 2018/Courtesy photograph)
Tadias Magazine
By Tadias Staff
Published: October 18th, 2018
New York (TADIAS) — Last year Solomon Mulugeta Kassa, host of TechTalk on Ethiopia Broadcasting Services (EBS), had shared with Tadias that he was putting the final touches on his new Amharic book focusing on science and technology. It covers "major science moments in history, its effect on the world and its relations to Ethiopia from the industrial revolution to the information age." Solomon said.
The book, which is titled Girimte Scitech, was released this past summer with a successful book launch party at the Sheraton Addis in Ethiopia on June 28th.
This week Solomon announced a book signing event in Arlington, VA on November 1st along with guest speaker Samuel Alemayehu, Managing Director at Cambridge Industries.
On his EBS TV show Solomon, who works full time as a Senior Technology Consultant for Deloitte, presents fascinating guests including NASA scientist Dr. Brook Lakew, who is an Associate Director for Planning, Research and Development, Solar System Exploration Division at the U.S. National Aeronautics and Space Administration, as well as Ethiopian American scientist Sossina M. Haile who is Professor of Materials Science & Chemical Engineering at Northwestern University and one of the leading green energy researchers in the world.
Photos: Solomon Kassa's Book launch at Sheraton Addis, June 28th, 2018:
In his interview with Tadias Solomon added. "The book also contains a reflection on the future. Where are we headed and what is our role? I am talking here about Africans in general and Ethiopians in particular. The fact of the matter is that we started civilization, but when it comes to modern technology we are still playing catch up."
—
If You Go:
Book Signing and Happy Hour by Solomon Kassa
Thu, November 1, 2018
6:00 PM – 8:30 PM
SPACES The Artisphere
1101 Wilson Boulevard
Arlington, VA 22209
Click here for more info
Related:
Tadias Interview With Solomon Kassa, Host of TechTalk on EBS
Join the conversation on Twitter and Facebook.