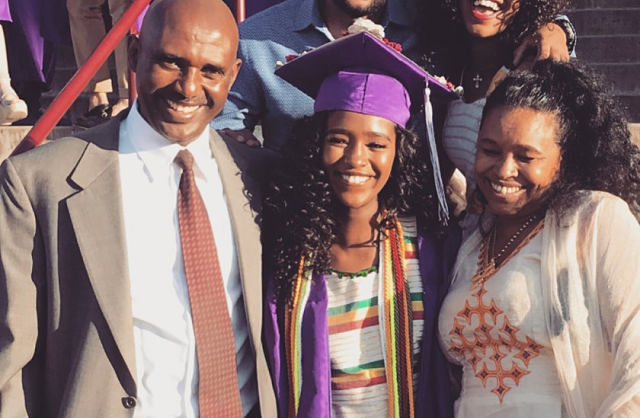 College student Sara Gebretsadik with her parents. (Family photo)
CBS4
DENVER – She just starting college and is only 19 years old, but Sara Gebretsadik has done enough to catch the eye of Gov. John Hickenlooper.
Gebretsadik was announced Wednesday as a recipient of the Emerging Community Leader for the Governor's Citizenship Medal.
"I'm proud of myself. Yes! I did all those things," Gebretsadik said as she read the list of her accomplishments the state had compiled.
She immigrated at the age of 10. She's volunteered for the Special Olympics and Denver Club of Humanities. She's mentored kids through the Black Student Alliance and other organizations.
sara rising rebels Ethiopian Teenager Earns One Of Colorados Highest Honors
(credit: Sara Gebretsadik)
"Rising Rebels is definitely my favorite accomplishment because it was very close and dear to heart. The club was dedicated to increasing people of color in higher-level courses," she said.
It's now been recognized nationally.
Gebretsadik had only been on campus at CU Boulder for a few days when she got an unexpected phone call.
"I answered it and it's the governor, and I thought I was getting pranked. I was just awestruck. I was super honored. He said I was a key component in trying to make a better change for Colorado in terms of my involvement through community service," she said.
The governor's office says medals are awarded to citizens, "To recognize the remarkable leaders in Colorado for their impact on their community, and to honor their legacy."
"I don't know what my legacy is, I just got into college. I'm trying to figure out my life," she said. "Definitely I hope to inspire people to do more good."
—
Join the conversation on Twitter and Facebook.