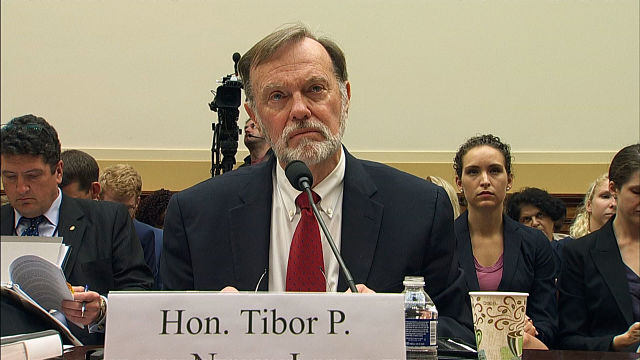 The Assistant Secretary of State for African Affairs Tibor Nagy testified before a House Foreign Affairs subcommittee on recent developments in Ethiopia on Wednesday September 12th, 2018. (C-SPAN)
Tadias Magazine
By Tadias Staff
Published: September 13th, 2018
New York (TADIAS) — The newly appointed U.S. Under Secretary of State for African Affairs, Tibor Nagy, praised the reform efforts underway in Ethiopia and the recent peace deal with Eritrea in a series of tweets on Wednesday.
This week Ethiopia and Eritrea achieved a major milestone in normalizing relations between the two neighbors when they reopened their borders for the first time in two decades. "Thousands of people from both countries watched one ceremony in Zalambessa, an Ethiopian border town that was reduced to rubble soon after hostilities between the neighbors broke out in 1998," Reuters reported. "Soldiers and civilians waving Ethiopian and Eritrean flags lined the road as Ethiopian Prime Minister Abiy Ahmed and Eritrean President Isaias Afwerki opened the frontier in a ceremony broadcast live on Ethiopian state TV."
"We enthusiastically welcomed Dr. Abiy and Eritrean President Isaias Afwerki working together to end 20 years of conflict between Ethiopia and Eritrea," Nagy said in one tweet. "We support both sides as they explore possibilities for peace & continue to encourage and support their long-term success."
The U.S. diplomat, who also testified on Wednesday before the House Foreign Affairs subcommittee on recent developments in Ethiopia, complimented PM Abiy Ahmed for his historic socio-political reform initiatives. "In Ethiopia, Prime Minister Abiy Ahmed has initiated groundbreaking reforms across most every area of Ethiopian society since taking office in April," Nagy stated on Twitter. "He deserves tremendous credit for his boldness in tackling issues that previous governments have not addressed."
According to C-SPAN other topics discussed at the hearing included "human rights concerns, regional security, economic development, Ethiopia relations with neighboring countries, and the U.S. influence in the region."
Nagy, who served as U.S. Ambassador to Ethiopia from 1999 to 2002, added: "Dr. Abiy has also taken dramatic steps to end the former government's repression of civil liberties, inviting a diversity of voices – including many who were previously criminalized – to participate in Ethiopia's future." He continued: "With Eritrea's re-emergence onto the regional & global stage, we see strong potential for its contributions to improving regional security. Eritrea can also contribute to regional peace & stability, as evidenced by its role brokering agreements among Ethiopian opposition groups."
Watch: House Foreign Affairs Subcommittee hearing on Development in Ethiopia
I want to thank @RepChrisSmith, @RepKarenBass, and the Committee for the invitation to testify today on U.S. national interests in recent developments in Ethiopia and the regional significance of the improving relationship between #Ethiopia and #Eritrea

— Tibor Nagy (@AsstSecStateAF) September 12, 2018
—
Join the conversation on Twitter and Facebook.