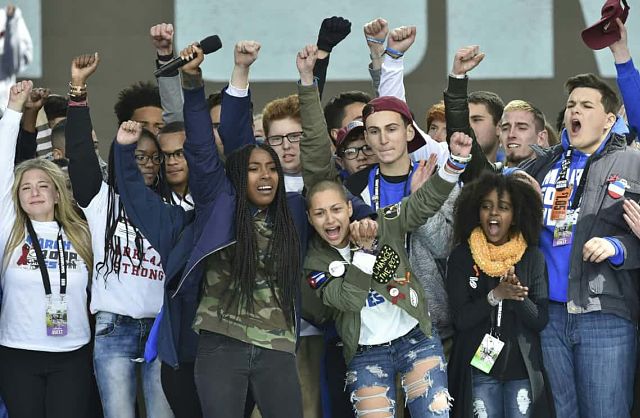 Students, who organized the March for Our Lives in Washington, are taking their campaign on the road. Tour aims to boost youth turnout...They point out that more than four million Americans turn 18 this year and will be voting for the first time. (Getty Images)
The Guardian
Parkland students target midterms with summer gun control road trip
Student survivors of the Parkland school shooting were announcing on Monday plans to take their March for Our Lives movement on a summer road trip of the United States.
The 60-day, 20-state bus tour will take in stops to meet victims and survivors of other school shootings, including Sante Fe, Texas, where 10 people were killed by a student gunman last month.
The aim is to promote gun law reform and unseat politicians tied to the gun lobby through a massive youth voter registration drive.
The Parkland students' trip, effectively a "drive for our lives" intended to build on the momentum gained by the March for Our Lives movement and nationwide rallies held in the aftermath of the February shooting that claimed 17 lives at Florida's Marjory Stoneman Douglas high school, will make 75 stops.
It will begin on Friday 15 June at a peace march in Chicago led by students from St Sabina Academy, several of whom teamed up with Parkland survivors in south Florida in March to discuss the drive for gun law reform.
From there, students will traverse the nation, including stops in California, South Carolina and Connecticut. A simultaneous but separate bus tour in Florida will see students making a further 25 stops, in each of the state's congressional districts.
The group, which was making the announcement at a morning press conference in Parkland, has made no secret of its targeting of November's midterm elections and elected officials who are supported financially by the National Rifle Association. They point out that more than four million Americans turn 18 this year and will be voting for the first time.
"If you don't support this, it looks like you're going against kids," said Emma Gonzalez, 18, one of the leaders of the Never Again movement behind March for Our Lives. The students were announcing their summer plans on Monday at the Pine Trails Park amphitheatre – which three months ago served as a memorial for the Parkland victims.
Read more »
—
Related
11-year-old Naomi Wadler's Eloquent Speech at Our Lives Rally in DC
Join the conversation on Twitter and Facebook.