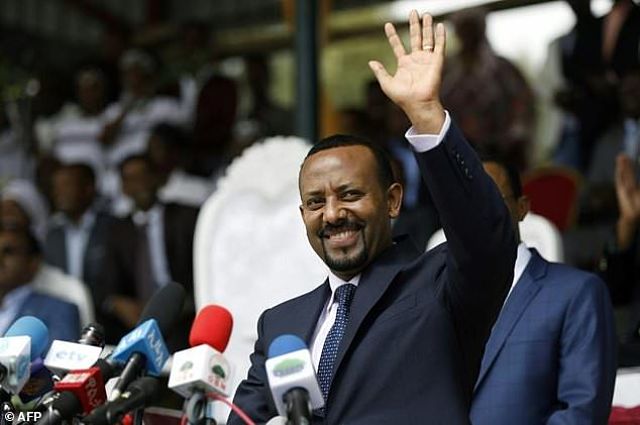 Prime Minister Abiy Ahmed addressing a rally in Ambo on Wednesday Apr 11th 2018. (AFP)
AFP
Ethiopia's new Prime Minister Abiy Ahmed paid a visit to a hotbed of anti-government protests Wednesday, asking residents for patience as he works to bring change to the Horn of Africa country.
Abiy is the first prime minister to come from Ethiopia's largest ethnic group the Oromo, who spearheaded more than two years of unprecedented protests against the country's one-party government that left hundreds dead.
In the university town of Ambo — a flashpoint for the protest movement — Abiy was welcomed by dozens of horsemen adorned in traditional Oromo attire and cheering crowds, composed of the same young people who made up the ranks of the protesters.
Speaking just over a week after his inauguration to a surging crowd of thousands that police struggled to restrain, Abiy hailed the protesters, known as Qeerroo, as the "shield of the Oromo people".
"We are now on the path of change and love," Abiy said, appealing for patience from the residents of Ambo, 120 kilometres (75 miles) west of the capital Addis Ababa.
"I ask you to give us time … to take organised action," he said.
"We want to work hand-in-hand with you. What we say and what we do must match."
- Breaking tradition -
The direct appeal to protesters stood in stark contrast to the situation in Ambo a year ago, when protesting students so feared voicing their opinions in public that they would only meet with journalists in an empty field outside of town.
"This is the first time the most powerful person in Ethiopia visited Ambo. The other leaders didn't like to visit because they were afraid. He broke that tradition," said Ambo resident Almaz Bulcha.
Read more »
—
Related:
Ethiopia PM gets huge welcome in Ambo (Africa News)
US House Approves Ethiopia Resolution H. Res. 128 Amid Objection on Timing
In Ethiopia Internet Returns, Maekelawi Closed, PM Visits Jijiga on Peace Mission
Ethiopia Frees Re-Arrested Journalists (AP)
A Charismatic Young Leader Tries to Calm Ethnic Tension in Ethiopia
Herculean Task Awaits Abiy Ahmed on Human Rights in Ethiopia
Ethiopia's PM Abiy Delivers Hopeful Inauguration Speech (Video)
Ethiopia Swears in New Prime Minister (AP)
Ethiopia Seeks Calm With a New Leader (The New York Times)
Join the conversation on Twitter and Facebook.