An NGO that uses music and radio to spread awareness about girls' rights in Ethiopia has lost its UK aid funding after a negative press campaign.
Girl Effect, which created a five-piece girl group, Yegna, described by the Daily Mail and the Telegraph as Ethiopia's Spice Girls, said its aims had been "wilfully misrepresented".
It says Yegna is a multi-platform brand, not merely a girl group, that addresses issues such as early forced marriage, violence and barriers to education through a radio drama, music, talkshows, and a YouTube channel.
Priti Patel gives UK aid suppliers 30 days to provide details of spending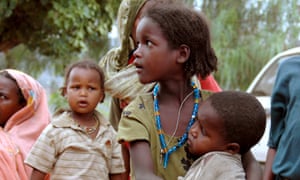 Children in Ethiopia. Girl Effect says Yegna helps some of the hardest-to-reach and most disadvantaged girls in the world.
The shadow international development secretary, Kate Osamor, said headlines describing the group as simply a pop band were "sensationalist" and the money supplied to the group was part of a much wider campaign that was ignored in the reports.
"Sensationalist, headline-grabbing stories of waste and corruption have become an ever increasing staple of British newspapers over recent months," Osamor said. "No policy, project or programme designed to improve the lives of destitute and marginalised people around the world seems exempt from rightwing media criticism."
She said aid should not be "one size fits all according to what we in the west think is what is needed".
The Department for International Development (DfID) said it had taken the decision to end its partnership with Girl Effect after a review of the programme, and had not been influenced by any newspaper campaign.
A spokesperson said: "Empowering women and girls around the world remains a priority, but we judge there are more effective ways to invest UK aid and to deliver even better results for the world's poorest and value for taxpayers' money."
The loss of funding will be a big blow to the project, which has consistently been praised by DfID for its impact. It was initially created in 2011 by DfID in partnership with the Nike Foundation, which said Yegna aimed to "change the culture of Ethiopia in a good way, to explain the problems in the society".