GUELPH — The driveway of a Guelph home, cordoned off by police tape, became the focal point of a candlelight vigil Sunday that sent the stirring sounds of weeping and wailing through east side streets.
Beginning around 1 p.m. Sunday, Ethiopians from the Guelph and Kitchener-Waterloo areas began gathering on Brunswick Avenue, along the side of 55 Vancouver Dr., a corner bungalow where quaint white lamp standards line the walkway — and a murder investigation is underway.
Guelph Police continued to probe the disappearance of beloved Seble (Mimi) Dietrich, a deeply spiritual, caring and generous member of the region's Ethiopian community who disappeared nearly a year ago. A tarp in the backyard of the home appeared to cover ground that had recently been excavated.
Last week, the woman's husband, Stephen Dietrich, a Guelphite of German origins, was charged with murder and obstructing justice. Two days later, police announced forensic investigators had found human remains at the property.
Those remains have not yet been identified. Dietrich is still officially considered missing. She was 39 at the time of her disappearance last July.
In the early part of Sunday's vigil, it would have been a challenge to keep a candle's flame flickering in the pouring rain. But many friends and admirers of Dietrich said it is important to keep the light of her life burning in memory, and to pray for her soul and the safety of her three children. Dietrich ran a small coffee shop in downtown Guelph and hosted an online Christian talk show.
The throng, nearly all Ethiopians, stood in a semicircle in front of the driveway. A number of women wearing black or white head scarves stepped forward and stood directly in front of the police tape. Soon, their groans and wails of grief rose up, touching off collective sorrow that spread instantly through the crowd. The women were bent over in grief, their sobs guttural.
Neighbours came out of their homes, some wiping tears from their eyes, others standing on decks and taking pictures of a scene they had likely never seen the likes of before.
One elder after another offered prayers and guidance in the Amharic language. The piercing sounds of sorrow continued to resonate throughout the two-hour vigil.
"First, I thanked the police investigators," said Fikre Ambaw, an elder from the Kitchener Ethiopian community who was close to Dietrich and, like so many in the community admired her for her charitable work and religious fervour. "They have done a wonderful job in working to solve this case."
Mesfin Woldearegay, a pastor at Bethel Ethiopian Evangelical Church in Kitchener, said part of his prayer to the gathering was for Stephen Dietrich, the accused man. "We care for the husband, and we pray for God's mercy toward him," he said in an interview. "We pray for this broken family, and for God's protection of their kids."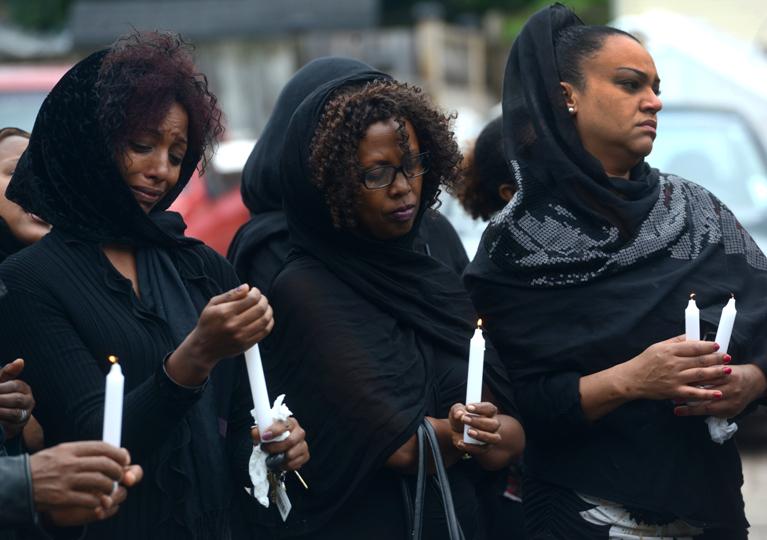 Shortly after Dietrich disappeared, Kerry Reyes was asked by members of the Ethiopian community to act as a kind of private investigator into the mystery. Reyes is a researcher who helps adopted persons locate their birth families. She set out to determine if Dietrich had returned to her native Ethiopia.
"This is a real tragedy," she said. "She was a very dynamic individual in the church, and much loved. She was on fire, a leader. She had such a beautiful singing voice. For any child to lose a mother, it is such a great loss. That really gripped me."
Police tape cordons off the Vancouver Drive home front and side. Wooden planks are stacked under a sprawling tree in the front yard, where a flower bed is overrun with weeds. Dietrich's red Mercedes-Benz and a vintage Chrysler sit in the driveway. Areas of the backyard appear to be dug up.
Donna Thomson and Lucio Artuso live across the street from the house. 55 They said residents of the neighbourhood are troubled by the police investigation happening in their midst and by Dietrich's disappearance.
"They were a quiet family," said Artuso. "She always seemed quite happy.
Thomson said she was moved by the scene on the street, and said it was a testament to the love that so many felt for Dietrich. "It's sad, but also like closure for them," she said.
Ambaw said many churches in the region united to help the Ethiopian community during this deeply troubling time, as it struggled with the disappearance of one of its most prominent and cherished members.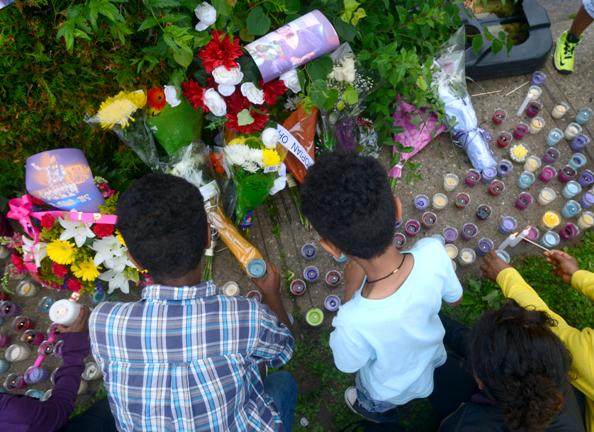 "She was a very wonderful person," Ambaw said. "She helped the lonely people and single people especially. Sometimes they came to her coffee shop, and she talked to them and helped them out. At the same time she talked to them about Christ, helping them spiritually, financially and morally. She did everything for the glory of God."
The rains let up as the vigil progressed. Well over 200 people gathered on the glistening street. Two police vehicles at the site soon moved to block traffic from coming down Brunswick Avenue so that the vigil could proceed uninterrupted.
Many small children were part of the gathering. When it came time to place lighted candles at the foot of a small memorial set up along the side of the driveway, it was children who helped place them neatly on the sidewalk. Several bouquets of flowers, along with two pictures of a smiling Dietrich adorned the memorial.
"This is so important. This is our culture," said Ambaw. "When something happens in one of our families, we get together right away and we just grieve together, and help each other. At the same time, we have to be strong as a community, to solve each individual's problems when we face them."